Smaller, Lighter but Stronger - Industrial Mini PoE converter
2022-08-29 Product News
Smaller, Lighter but Stronger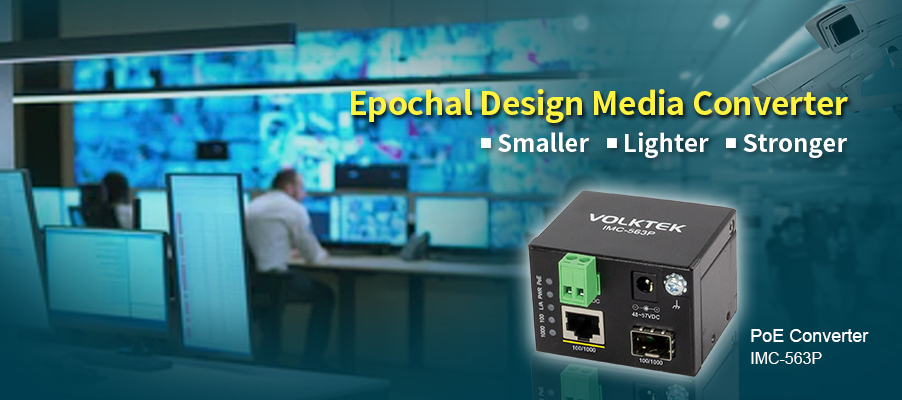 In general concept, PoE technology provides the data and power through Ethernet cable. It is used in the area that cannot supply the power outlet. The PoE media converter is one of the solution not only for IP surveillance but also for Wireless deployment.
But today there will be a new solution! Volktek, a leading supplier of industrial communication solutions, is proud to release the new media converter: IMC-563P. IMC-563P equips 10/100/1000 PoE+ port and an FX/GbE SFP port, which supports data transmission to IP Cameras, Wireless Access Points, and related devices.

With the incredible dimensions of 60.5x42.5x50 (mm) that is smaller than a credit card, it can be easily put inside of Camera enclosure. This design will not just keep the whole system fit in one, but also make the system stable and reliable at the same time.
The IMC-563P only weights 185 g (0.41 lb). Compare to the standard media converter, IMC-563P is 50% lighter. Moreover, it can operate at extreme temperatures between -40°C~75°C (-40°F~167°F).
To sum up, IMC-563P is more competitive than all the standard media converters and can be widely used in different working environments. "Smaller, lighter but stronger" will be IMC-563P's motto from now on.
In the preset day, Volktek's media converters are deployed worldwide even in FIFA! If you are considering using media converter, IMC-563P will be your first option.