Built to manage industrial network / The whole series of 8 Port Managed Industrial switches
Built to manage industrial network
The whole series of 8 Port Managed Industrial switches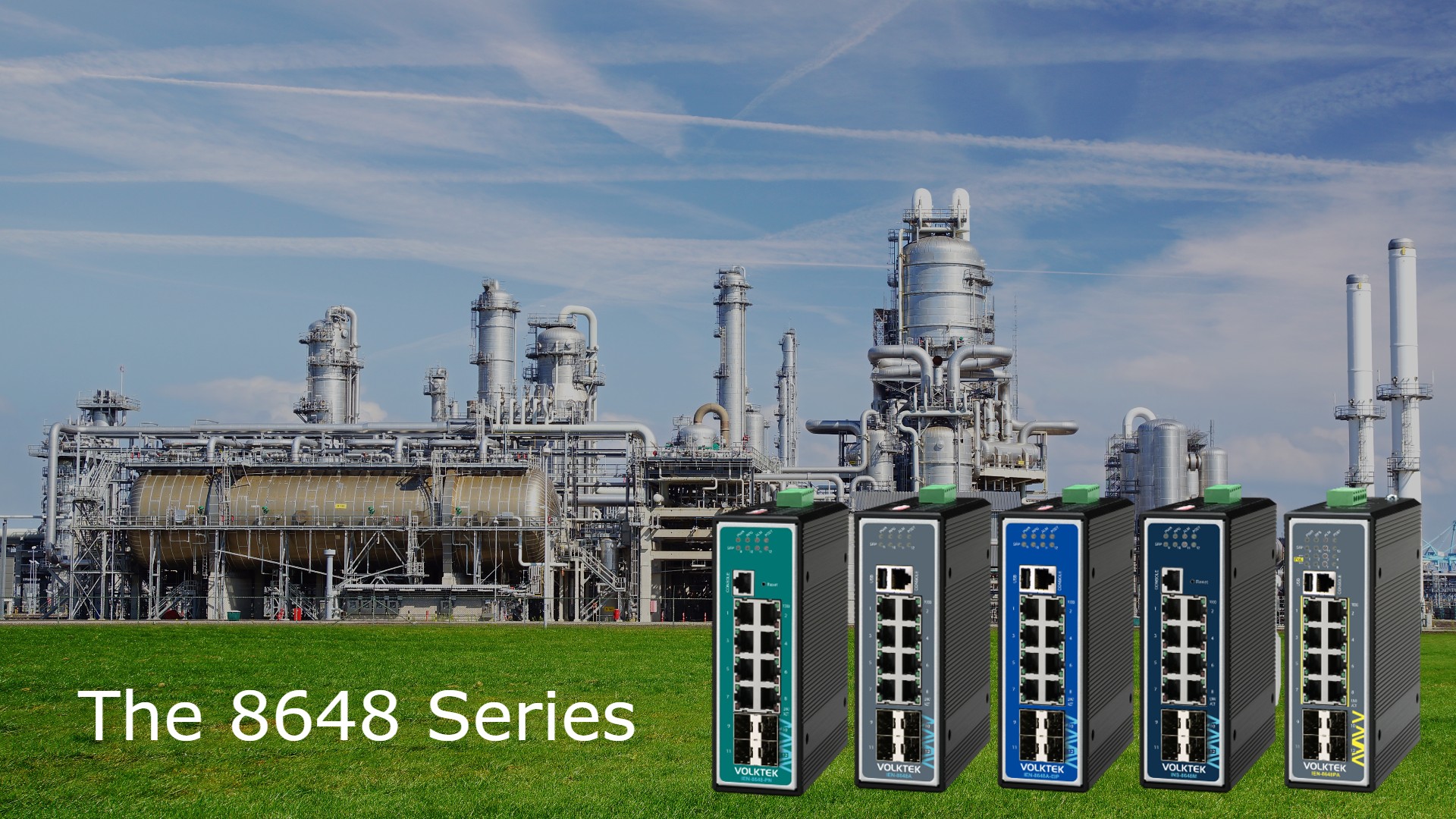 Along with the development of times, the usage of automation is considered widespread in different area. The requirement for different type of industrial switch is essential needs, Volktek has provided 8648 series to fulfill various application as following
Industrial Switch
IEN-8648A
8 Port L2+ Managed Industrial Gigabit with 4 Port SFP Switch
IEN-8648PA and IEN-8648PA-24V
8 Port L2+ Managed Industrial Gigabit PoE with 4 Port SFP Switch
Certified Ethernet
IEN-8648-PN
8 Port L2+ Managed Industrial Gigabit with 4 Port SFP Switch, PROFINET Compliant
IEN-8648A-EIP
8 Port L2+ Managed Industrial Gigabit with 4 Port SFP Switch, Ethernet/IP Approval
INS-8648M
8 Port L2+ Managed Industrial Gigabit with 4 Port SFP Switch, DNV MARINE Approval
The 8648 series is design for high-performance managed industrial switch. The IP30 waterproof and operating temperature from -40°C to 75°C (-40°F~167°F) allow it to work indoor and outdoor applications.
The industrial-grade components built inside guarantee the device could operate stably under different rough environment without concerns of hazards like vibration, shock, and free fall.
Most importantly, Volktek has published multiple versions with different industrial certificates to fulfill customers' demand in different industry field such as PROFINET,
Ethernet/IP Approval and DNV MARINE Approval
Last but not least, the IEN-8648PA / IEN-8648PA-24V are PoE switch (802.3at standard) can provide up to 30W per port, it bring a flexible way to solve the need of outdoor application.
The automation needs industrial network system, and what you need is 8648 series!