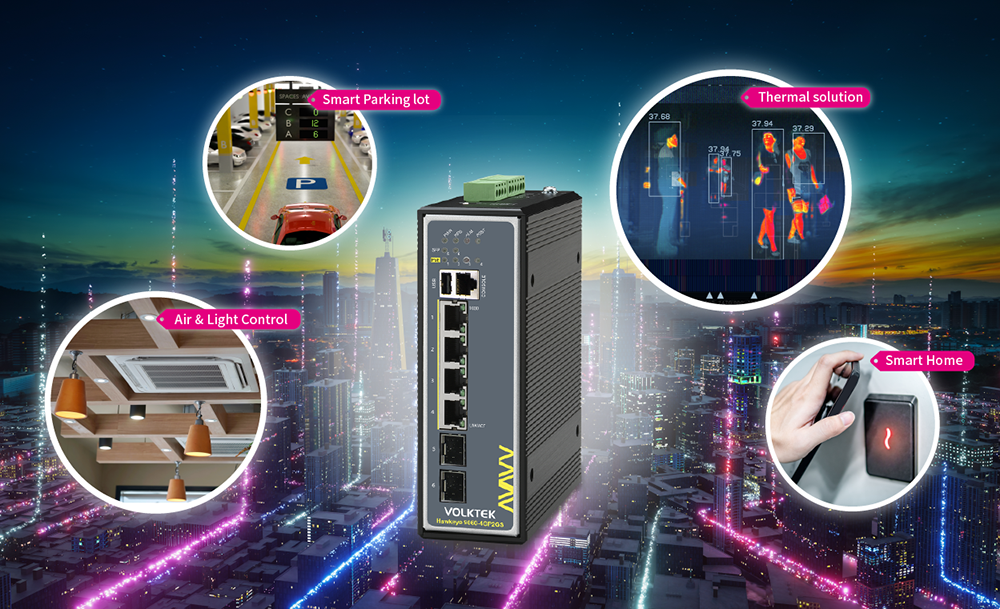 Hawkeye 9060
The Driving Force Of Smart Cities
Industrial IEEE 802.3bt 90W PoE++ Managed Ethernet Switch
"Our customers increased interest to expand their network and the world's necessity for end-to-end interconnection brought us to the release of an ultra power IEEE 802.3bt 90W PoE++ solution, Hawkeye 9060."
Feb. 1, 2021 - Volktek, a leading Taiwanese original design and equipment manufacturer of ethernet solutions, is proud to announce the release of its managed industrial-grade Ethernet switches, the Hawkeye 9060 Series.
Volktek fulfills the current needs of Industrial Ethernet applications for high-power and Gigabit speed data transmissions with the new Hawkeye 9060 Series. Hawkeye 9060 Series is a Layer 2 fully managed switch of 4 Gigabit Ethernet IEEE 802.3bt 90W PoE++ RJ45 ports, with data and power output of up to 90 Watts on each port, 2 Gigabit speed SFP slots, and 2 x dry contacts of digital input.
Tested for Industrial Applications with resistant features for harsh environments
As an industrial switch, it is tested against voltage anomalies and offers a redundant power input design to run continuously when power failures occur, ideal for power demanding applications and data gathering through digital input such as smart lighting; Interactive and customized retail services; smart perimeter surveillance; and the management of ecologic heating, ventilation, and air conditioning systems. In addition, the Hawkeye 9060 Series offers a wide operating temperature range (-40°C~75°C / -40°F~167°F), which is monitored regularly to detect temperature and voltage anomalies.
Air Pollution Monitoring and Smart Lighting Solution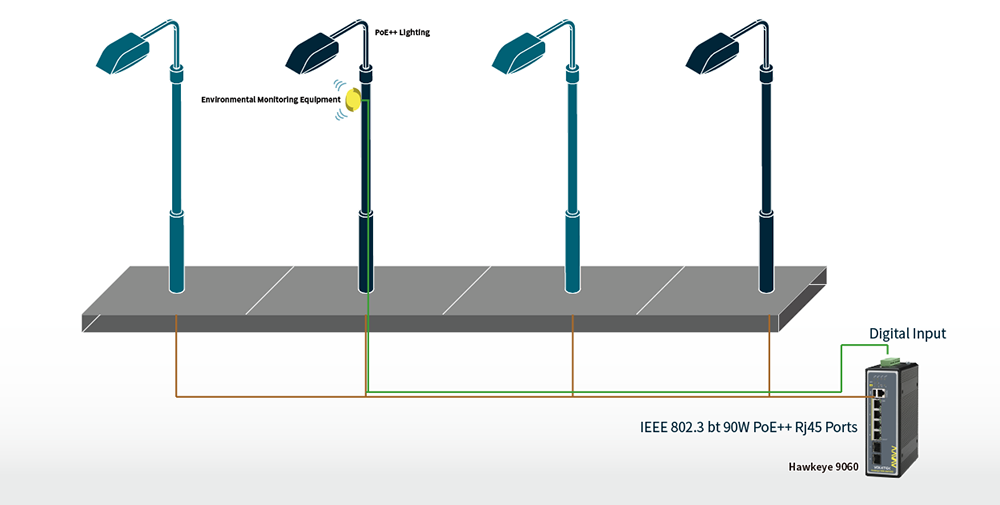 Wide range of management features, remotely manageable, and smart features for automation
Hawkeye 9060, with 48~57V DC high voltage power input, supports 10KBytes jumbo frames and provides full control of the network for its management and protection, and offers firmware update through USB. It offers network aggregation qualities with ModbusTCP and LLDP protocols, integrated PD automation capabilities with uninterrupted power, a reliable network with super-fast recovery in milliseconds, and advanced cyber network security features. Users can provide control with the help of a Web GUI, and monitor the network in real-time by visualizing all network devices on its topology map.
Volktek Corporation holds 27 years of market experience and enjoys global recognition attracting 95% of its revenue from international markets by supplying networking solutions for Telecommunications, Surveillance, and Automation.
Volktek manufactures and customizes Ethernet devices to the convenience of our end customers, contact us for more information or subscribe to our monthly newsletter to receive info about product upgrades, special offers, updated information, and more news.