COVID-19 NOTICE – FACTORY PRODUCTION AND SHIPPING CONTINUES AS USUAL
2021-05-27 Corporate News
中文版↓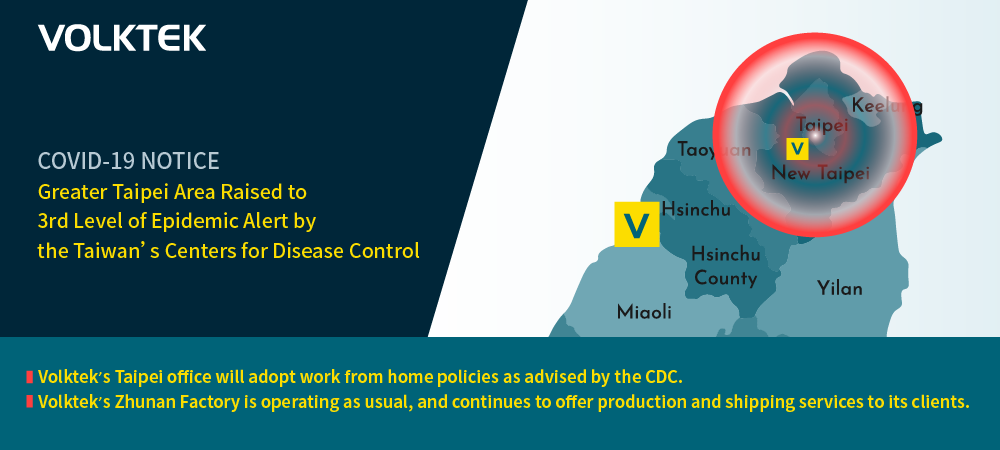 Due to to the current COVID-19 Epidemic, Taipei and New Taipei City have been raised to the 3rd Level Epidemic Alert by Taiwan's Centers for Disease Control from now through May 28, 2021 meaning stricter countermeasures to prevent any further large-scale community transmission.
Volktek's Taipei office will adopt work-from-home policies as advised by the CDC but will continue regular operations. We apologize beforehand for how this may affect business speeds. Volktek's Zhunan Factory is operating as usual and continues to offer production and shipping services to our clients. We are implementing the mandatory regulations in accordance with the epidemic prevention procedure to prevent the spread of the virus and keep our staff safe.
Volktek reminds you to wear a mask at all times when you are outside your home and comply with the required social distancing measures.
Sincerely,
Volktek Corporation
中文版
因應目前台灣國內COVID-19疫情持續嚴峻,雙北地區(臺北市、新北市) 已進入社區流行階段,自5月15起至5月28日,中央流行疫情指揮中心提升雙北地區疫情警戒,並更嚴謹加大限制措施,以防範社區傳染擴散。
Volktek台北辦公室於此狀況下依照CDC(疾病管制局)建議,以分流居家辦公為原則,維持正常營運並持續觀察疫情發展。若業務的回應速度受到影響, 敬請客戶見諒,我們將盡力提供最好的服務。竹南工廠於疫情警戒提升中仍會維持正常運作,並已加強相關規範,依照防疫規範實施,仍是維持正常生產與出貨的營運狀態。
Volktek提醒,外出時全程配戴口罩且避免不必要移動、活動或集會並保持社交距離。防疫需大家齊心協力,我們將全力配合疾管署相關防疫規定,讓我們一起守護大家的健康。
定揚科技 敬啟